On December 14, 2012, 27 people, including 20 children and 6 adult staff members, were fatally shot at Sandy Hook School in the Sandy Hook village of Newtown, Connecticut. This was the second-deadliest mass shooting in United States history, after the 2007 Virginia Tech massacre, and the second-deadliest attack on a primary school in the country, after the 1927 Bath School bombings.

The gunman, identified by authorities as 20-year-old Adam Lanza, first killed his mother, Nancy Lanza, at their nearby Newtown home. He then drove to the school and shot the employees and students before killing himself. The overall death toll was 28, including the perpetrator.
Background
As of November 30, 2012, the school had a total of 456 students in kindergarten through fourth grade. According to a letter sent to parents at the beginning of the year, the school had recently upgraded its security protocol, requiring visitors to be individually admitted after visual and identification review over a video monitor; the doors were locked at 9:30 a.m. each day after morning arrivals.


The community of Newtown is described by residents as being known for its "rural charm" and its family-oriented environment. Violent crime is rare in the town of 28,000 residents. There had been only one homicide in the town in the ten years prior to the school shooting.[6] The most notable case to have happened there was the 1986 murder of Helle Crafts, whose body was shredded with a wood chipper.
Shooting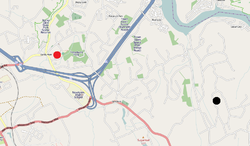 Some time before 9:30 AM on 14 December 2012, Adam Lanza shot and killed his mother Nancy Lanza, age 52, at their Newtown home. He then drove her car to the Sandy Hook School.


According to Connecticut State Police statements on December 15, Adam Lanza forced his way into the building. He wore black military-style gear, including a bullet-proof vest and a mask, during the shootings.


He started shooting at about 9:35 a.m., approximately half an hour after the school day began. Some of those present reported that initial shots were heard on the school's intercom system, which was being used for morning announcements. Most of the shooting took place in two first-grade classrooms, with fifteen killed in one room and five in the other, and lasted only a few minutes, during which time witnesses said the perpetrator did not say a word. The children killed were six and seven years old, and included eight boys and twelve girls. The six adults were all women who worked at the school. Adam Lanza shot himself shortly thereafter.


During the incident, a custodian ran through hallways, alerting classrooms in person. First grade teacher Kaitlyn Roig, age 29, hid 14 students in a bathroom and barricaded the door, telling them to be completely quiet in order to keep them safe.
The state police received the first 9-1-1 call at 9:41 a.m. and responded immediately. They and Newtown police soon recognized the gravity of the situation, and local K9 and tactical units, the bomb squad, and state police helicopter were quickly mobilized. Police began to evacuate the locked-down school room-by-room, escorting groups of students and adults away from the school. The school was swept for additional shooters at least four times by the police. No shots were fired by the authorities. Three injured victims were evacuated; two were later declared dead of their injuries. The New York City medical examiner dispatched a portable morgue to assist with the aftermath.


Authorities recovered three semi-automatic firearms from the scene: a .223-caliber Bushmaster rifle, a 9mm Glock handgun, and a 9mm SIG Sauer handgun. All three were legally registered and owned by Lanza's mother, who is reported to have been a gun enthusiast. A fourth weapon, described as a "long gun", was found in the car he drove to the school. According to the medical examiner, all victims were shot with the same "long weapon", presumably the Bushmaster rifle, and all were hit multiple times; one of the bodies had 11 gunshot wounds. Adam Lanza was too young to own or carry either handgun under Connecticut law
Victims
Victims
Nancy Lanza, 52, perpetrator's mother
Rachel Davino, 29, teacher
Dawn Lafferty Hochsprung, 47, principal
Anne Marie Murphy, 52, teacher
Lauren Rousseau, 30, teacher
Mary Sherlach, 56, school psychologist
Victoria Soto, 27, teacher
Charlotte Bacon, 6
Daniel Barden, 7
Olivia Engel, 6
Josephine Gay, 7
Dylan Hockley, 6
Madeline F. Hsu, 6
Catherine Violet Hubbard, 6
Chase Kowalski, 7
Jesse Lewis, 6
Ana Marquez-Greene, 6
James Mattioli, 6
Grace McDonnell, 6
Emilie Parker, 6 (picture below)
Jack Pinto, 6
Noah Pozner, 6
Caroline Previdi, 6
Jessica Rekos, 6
Avielle Richman, 6
Benjamin Wheeler, 6
Allison N. Wyatt, 6
Perpetrator (suicide)
Lt. J. Paul Vance, the Connecticut State Police spokesperson, said that all victims' bodies were removed and identified during the night after the shooting. In Puerto Rico, the name of 6-year-old Ana Marquez-Greene was released as one of the victims by her granduncle, Jorge Marquez, mayor of Maunabo, after the family was notified by authorities. A state trooper was assigned to each of the victims' families to protect their privacy. The medical examiner said all deaths in the school shootings were homicides as the result of multiple gunshot wounds.
Perpetrator
Police authorities said the gunman was 20-year-old Adam Peter Lanza (born April 22, 1992). He was born in Kingston, New Hampshire, where his parents had been married in 1981. Lanza attended St. Rose of Lima for middle school and then Newtown High School, where he was an honors student. He had no criminal record. Lanza lived with his mother at her house in Sandy Hook, located Template:Convert from the elementary school. Lanza's connection to the elementary school has been unclear. Although initial reports stated that his mother was a teacher in the school, the school superintendent later disputed that.


Lanza's parents had divorced in 2009. Adam Lanza's father, a vice president and corporate tax accountant for GE Energy Financial Services and an adjunct professor at Northeastern University in Boston who lives in Stamford, Connecticut, originally declined to comment on the shootings. On December 15, a statement was released by Lanza's father.


Lanza graduated from high school in 2010 and lived at home; it was suggested that his mother was unable to work, having to stay home to take care of him. The family was supported by a $240,000 annual alimony paid by Lanza's father.


Two days before the massacre, Lanza went to a sporting goods store in Danbury, Connecticut, tried to buy a rifle. He was turned down because he didn't want to undergo a background check or abide by the state's waiting period for gun sales.


At the time of the shooting, Adam Lanza was carrying the identification of his older brother, leading police sources to initially report the sibling as the perpetrator. Adam Lanza's brother voluntarily submitted to questioning by police, but is not considered a suspect and was not taken into custody. He said he had not been in touch with his brother since 2010. Ryan later voluntarily agreed to questioning by New Jersey police, the Connecticut State Police, and the Federal Bureau of Investigation (FBI). He is not considered a suspect.


He told law enforcement that his brother Adam was believed to suffer from a personality disorder and was "somewhat autistic"; classmates said they had been told Adam had Asperger syndrome. Students and teachers who knew Adam Lanza in high school described him as "intelligent, but nervous and fidgety", saying he normally avoided attention. He was also described by his classmates as a goth. A bus driver who drove the Lanza brothers to and from school recalled them as "really nice boys, well-behaved". According to former classmates of Adam Lanza's, he was socially uncomfortable; he is not known to have had any close friends in school.


Police investigated whether Lanza was the person who had been in a reported "altercation" with four staff members at Sandy Hook School the day before the massacre. It was presumed that he killed two of such four staff members (the principal and the psychologist) and wounded the third (the vice-principal) in the attack; the fourth staff member was not at the school that day. But Lt. J. Paul Vance of the Connecticut State Police noted in a news conference later that he knew of no reports about Lanza being involved in any altercations at the school.


On December 15, Police Lieutenant Paul Vance told a news conference: "Our investigators at the crime scene ... did produce some very good evidence in this investigation that our investigators will be able to use in, hopefully, painting the complete picture as to how – and more importantly why – this occurred.


An aunt of Adam Lanza said his mother removed him from the Newtown public school system because she was unhappy with the school district's plans for her son.
Reactions
Domestic
In reaction to the shooting, Connecticut Governor Dan Malloy said:
Evil visited this community today. And it's too early to speak of recovery but each parent, each sibling, each member of the family has to understand that Connecticut we're all in this together. We'll do whatever we can do to get through this event. We will get through it. But this is a terrible time for this community and these families...

Hundreds of mourners, including Governor Malloy, attended vigils in various churches in Newtown.
President Obama's remarks on the day of the shooting.
President Barack Obama expressed "enormous sympathy for families that are affected". President Obama gave a televised address at 3:16 p.m. EST the same day, saying, "We are going to have to come together and take meaningful action to prevent more tragedies like this, regardless of the politics." Obama paused twice during the address to compose himself and wipe away tears. He also ordered flags to be flown at half-staff at the White House and other US federal government facilities worldwide in respect for the victims. President Obama will attend an interfaith vigil Sunday December 16 at 7 p.m. in Newtown.


United States Secretary of Education Arne Duncan said, "...our thanks go out to every teacher, staff member, and first responder who cared for, comforted, and protected children from harm, often at risk to themselves. We will do everything in our power to assist and support the healing and recovery of Newtown.' Speaker of the House John Boehner ordered flags be flown at half-staff at the United States Capitol as well. Within the first 15 hours after the massacre, more than 100,000 Americans signed up at the Obama administration's We the People petitioning website in support of a renewed national debate on gun control.
100,000 Americans signed up at the Obama administration's We the People petitioning website in support of a renewed national debate on gun control.
Note from the founder of this wikia
My prayer of heart go to the Sandy Hook Elementary School Victims.
As they go to heaven & God taking care of them.


In Loving Memory
Almighty God, through the death of your Son on the cross, you have overcome death for us. Through his burial and resurrection from the dead you have made the grave a holy place and restored us to eternal life. We pray for those who died believing in Jesus and are buried with him in the hope of rising again. God of the living and the dead, may those who faithfully believed in you on earth praise you for ever in the joy of heaven. We ask this through Christ our Lord.

Amen.
Memory Video
_
Picture
Picture of Memory
This is for the memory of the "Victims" that was kill in the "Sandy Hook Elementary" shooting &
Family speak for there love one:
Memory Of Loved One
Memory of "Emilie Parker"

Emilie Parker
(2006-2012)

Her Father "Robbie Parker"
speakabout his little girl "Emilie"

Memory of ""
Memory of ""
Memory of ""
Memory of ""
E-Mail From Sender
E-Mail from Erica Lafferty:
Edmund --
My mom, Dawn Hochsprung, was the principal at Sandy Hook Elementary School in Newtown, Connecticut.
Six months ago today, she was shot and killed in her school, along with five of her coworkers and 20 of her students.

In the weeks and months after that horrible day, lawmakers from across the country told us, the families of the victims, that they'd take action to make our communities safer. What we found out is that, for some of our members of Congress, those were empty promises.
And in those six months, thousands more people have been killed by guns.

I've been doing everything I can to reach out to members of Congress. But my voice isn't enough. Today, on the six-month anniversary of Newtown, every single person who cares about reducing gun violence in America needs to recommit to this fight.

More than 1.4 million Americans have said they're with us in the fight to reduce gun violence -- add your name today.

In her last minutes, Mom was just as brave and caring as I knew her to be. After telling everyone to hide, she went running into the hallway, saw the gunman, yelled and lunged at him in an effort to protect the school she loved.

I miss her every second of every day. I'm getting married in just a few weeks -- to a guy she was rooting for, in a dress we picked out together -- but because a dangerous man got his hands on a gun, my mom won't be there to see it.

I'm still grieving -- and I'm not alone. On average, 33 Americans are killed by a gun every single day. That's 33 new families a day who mourn like I do.

If a background check saves even one life, and keeps even one family from hurting like this, then this fight will all be worth it. I think my mom would like to know that the tragedy that fell on Newtown meant that another tragedy could be stopped before it even started.

I'm asking you to join me today, six months after that horrible day, to keep this fight going -- take action for my mom, Dawn, and the 25 other people who we lost in December.

Say you're with us today:
http://my.barackobama.com/Six-Months-Since-Newtown
Thanks, Erica Lafferty

_______________
To the family of the "Victims" that was kill in the "Sandy Hook Elementary" shooting:
If you like to add your child name & picture above the line, Please e-mail me at iCarlyFan2009@gmail.com
Also you could send your pic & your word about your child (If You Want).
Thank You...
Note of Memory
Please type a memory note below to the family of the "Victims" of "Sandy Hook Elementary School".
or type down how you feel when this happen.
Thank You,
iCarlyFan2009 (Edmund K Lo) (talk) 05:53, December 16, 2012 (UTC)